Congrats on becoming a member of Cardrunners (CRs) Devin, it's a big honor.

Tell us a little about CRs
Cardrunners really is awesome! Aside from the obvious reasons, (Instructional videos) you can interact through the poker forums and even write your own blog. I think my favorite part of the site is reading Brian Townsends blog. Anything from highstakes cash games to running a marathon

Will this be your first time coaching/mentoring poker players?
It will be the first time in an official manner. I've staked some players in the past that have come to me w/ questions about how they played a hand etc..

What is the one thing you hope to accomplish while working at cardrunners?
Well, along with doing the videos, I'm also the first one to be co-sponsored by them and FullTiltPoker at this years WSOP...So, the greedy side of me would like to make another Final table and maybe win this time.

What card game was the first you payed growing up?
My dad would invite friends over to have a poker night and we played dealers choice..We'd usually play nickel-dime limits and the games would vary from 5card draw to 7card no peakie follow the bitch

How long have you played hold em?
Hmm..I remember sneaking into the casino in Wendover, NV when I was 19..so around then (5 years)

How did you decide to play your first WPT event?
I won a seat to the UltimateBet Aruba classic..So I was forced to go :)

Very fortunate that you couldn't cash out for tournament dollars then. When during that first tourney did you realize that you could really play with those guys?
I doubled up in the 2nd or 3rd hour and went over to Adam from Pocketfives.com and said "These guys are just as clueless as me!"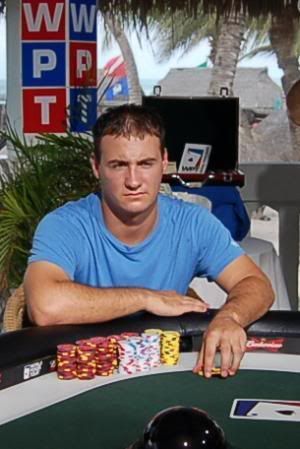 Most of the people reading this have never made the final table in a big live event, tell us what it was like the first time?
It truly was surreal! I was nervous, excited, pumped and everything all at once.. Its hard for me to imagine a player of my skill level back then making the FT..There was so much I didnt know.

Which was more fun, the first WPT final table or the first WSOP final table?
Thats tough! The WPT had my friends all there and was exciting..Whereas the WSOP had my family there and was about business..Making a name for myself by winning a bracelet

How did you pick the name TranquilChaos?
My dad and I were talking about my poker game and he said "Its cool, you play so calm and boring then all of sudden youre raising every pot" So, it developed from there

You are young, have a ton of talent, a beautiful wife and a great family, do you realize how much that annoys the rest of us :)
HaHa thank you!..I think

Which player does things at the table that makes you think "wow I d really like to do that?"
I'd have to say PearlJammers patience..I would love to be able to fold like he does :)

What's the best live event, whether concert, sporting event or other, that you have ever attended?
Probably the Fiesta Bowl 2005..Utah utes stomped Pitt in the first BCS bowl game for a team in a non-major conference

How can people join CRs?
One of the things I love is that you can sign up for a 24 hour period and try it out before you commit to a full membership. Cardrunners signup

Tell us about the best hand you ever played?
It was at the Mirage Poker Showdown the year I made the Final table.. I was on a sick sick table w/ Phil Ivey, Joe Cassidy, Theo Tran, Minh Nguyen, Jason Lester, John Juanda and Michael Mizrachi..We were approaching the money bubble (although I'm sure Ivey didnt give a shit) It folded to me on the button and I make it 9k w/ 88, Ivey reraises from the small blind to 30k and I call looking to use my position against the best player in the world (ha) Flop comes down AJT and Ivey bets out 30k. I raise it up to 115k thinking hes only continuing here w/ a flopped set or KQ..maybe AJ..he thinks for a couple minutes staring me down asking if I can beat QQ...(Not a fun time) then mucks...wahoo!!

Whats the best piece of advice you've ever been given?
Its just poker..So many more important things out there than a silly game.

What's the mistake most improving need to eliminate to improve their game the quickest?
I really think when playing online people dont pay enough attention to the betting patterns of the other players..They are watchign tv, surfing the web etc..You miss out on the guy that limps every hand or the guy that raises utg+ w/ a6 etc

What's the one thing you've always wanted to say that no one has ever given you the chance to say before?
I honestly cant think of anything..I usually speak my mind even when not appropriate

Okay, you win the $50 million in the lotto tomorrow, what's the first thing you buy for your wife? for yourself?
I would finish her moms house as I know thats the thing she wants most.. For me I'd buy an oreo shake from Dennys...superstitious tradition after I winsomething big

What's your favorite singer/band
Local band in utah called The Devil Whale or Lucky Boys Confusion

I know you are a big Utah Jazz fan. Who is your favorite jazz player eva?
hahah John Stockton and his short shorts

Thanks for joining me at the rail Devin

tyvm gl at the tables