Friend of the blog Tranquilchaos cut through the field in the UltimateBet Sniper 10K Guaranteed on yesterday. He won the tournament and earned $2350.00 for beating the field of 628.
As many of you know, TC is Devin Porter who has made multiple final tables on the WPT and a final table at the WSOP. Don't let this picture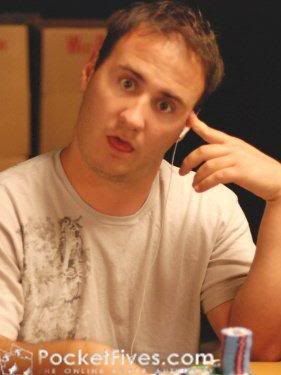 fool you, he is definitely a threat to take down a bracelet at the WSOP this year.
Congrats on a fine effort Devin!

You can read his blog here: TranquilChaos

Our New Zealand friend, Mathclub, had another great evening on the virtual felt. On PokerStars under his screenname jakehekejnr, he won Tournament 86799589 in the early hours of 05-02-2008. For outlasting 156 other players, Mathclub won $1083.31.
He also made the final table in the $33 and $5rebuy on FullTilt. Another great evening for a really good guy! Awesome job sir! I wouldn't be surprised to see Mathclub take some expensive jewelry home from Las Vegas this summer. However, he may have a disadvantage since he'll only be able to play one tournament at a time.